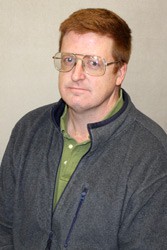 Professor and Extension Specialist

Office:

108 Soil Testing Laboratory

Email:

Phone:

979-845-4816
Website: http://soiltesting.tamu.edu/
Education
Undergraduate Education

Graduate Education

Ph.D. , Purdue University, 1996.
Professional Summary
Specialty:Soil Chemistry
My Extension and research program focuses on testing methodologies for the evaluation of water, plant and soils as related to agronomic and environmental considerations. Additionally, the program focuses on the collection of samples prior to analyses and the development of fertilizer, amendments or other cultural practice recommendations to improve both economic and environmental productivity of the landscape. The center piece of my program revolves around the Soil, Water and Forage Testing Laboratory, the outreach Extension components of nutrient management and water quality, and utilization of advanced instrumentation for analytical analyses of agricultural samples.